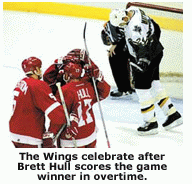 DALLAS - Brett Hull scored another big goal in Dallas. Only this time it was for the Detroit Red Wings.
Hull had two goals in his first game back in Dallas, including the winner with 4:12 left in overtime, to lift the Red Wings to a 4-3 victory over the Stars on Wednesday night.
For Hull, beating Dallas in a Detroit uniform felt good, but not for reasons of payback.
"Of course it does, but not because of spite but because it's a good feeling," Hull said. "I've got so much respect for those guys over there, but it was nice to get the win."
Hull scooped up a loose puck in the neutral zone, took a return pass from Nicklas Lidstrom on a 3-on-1 and beat Ed Belfour from the left circle as the Red Wings improved to 6-0-0 on the road.
Playing on a slushy surface that isn't cleared by the Zamboni prior to the five-minute overtime worked in Hull's favor.
"With the heavy ice, I tried to just shoot it heavy and quick," Hull said.
In the first period, Hull notched his 654th career goal to move into sole possession of sixth place on the career list. Hull joined Detroit as a free agent after three seasons with the Stars, scoring the clinching goal against the Buffalo Sabres in 1999 that gave Dallas its first Stanley Cup.
Hull began the night tied with Mark Messier of the New York Rangers for sixth place on the career goal-scoring list.
The Red Wings welcomed a goal-scorer like Hull after the Stars refused to give him the two-year contract he was seeking. Detroit came through after several of their top players agreed to defer some of their salary in order to sign Hull.
Hull has been prospering on a line with Steve Yzerman and another of Detroit's probable future Hall-of-Fame offseason acquisitions, Luc Robitaille.
"(Hull and Robitaille) just add another dimension to our team," Lidstrom said. "Both of them have been doing that for us and Hully did it again tonight with two. We definitely needed guys who could score some goals for us and that's what they did."
The game's first six goals were scored in a wild first period before both teams tightened up defensively.
Stars coach Ken Hitchcock saw another series of mistakes cost his team, including a turnover by veteran center Joe Nieuwendyk that led to Hull's game-winner. Dallas lost its third in a row, two in overtime.
"Some of the mistakes that we made were individual mistakes," Hitchcock said. "When that happens, it ends up in your net."
Jere Lehtinen scored shorthanded for the Stars at 4:25, but Sergei Fedorov tied it on the power play 1:18 later.
Donald Audette got behind the Detroit defense to give Dallas a 2-1 lead at 10:57, but Hull evened it at 2 at 12:18 when he capitalized on a turnover by Stars defenseman Derian Hatcher.
Brendan Shanahan's 10th goal put Detroit back in front at 13:02, but Benoit Hogue evened it at 3 on a blast from just inside the blue line that went into the net off the glove of Red Wings goaltender Manny Legace.
Legace got his second straight start in place of Dominik Hasek, out with the flu. Legace has been bothered by a sore neck, but made 26 saves as a fill-in for Hasek in Tuesday night's 5-2 victory at Carolina.
Legace is 14-0-2 in his last 16 games dating to last season.