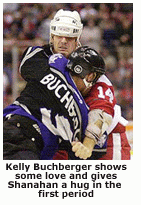 DETROIT (AP) - Los Angeles coach Andy Murray took the last shot . . . at his own team.
"That's an embarrassment to the game and an embarrassment to come out and play like that," Murray said after the Kings' 4-2 loss to Detroit on Saturday night.
Detroit outshot Los Angeles 33-10 and scored two power-play goals and one short-handed.
Steve Heinze brought the Kings within 3-2 with a power-play goal 3:09 into the third period when he put in a backhander off a rebound. Detroit has allowed big leads to disappear in the third period, but Sergei Fedorov got the clincher when his wrist shot from the top of the left circle went in off goaltender Felix Potvin with 2:20 left in the game. The Red Wings beat Minnesota 8-3 Friday but allowed all three Wild goals in the third period.
Shanahan gave the Red Wings a 3-1 lead with a power-play goal with 3:05 left in the second period. With Mikko Eloranta off for obstruction interference, Shanahan's one-timer from the bottom of the left circle, off a pass from Tomas (Homer) Holmstrom, beat Potvin high on the short side.
Trailing 2-0 in the second period, the Kings scored a power-play goal of their own. With Detroit's Darren McCarty in the penalty box for holding, Craig Johnson poked a backhander over a sprawling Dominik Hasek at 8:15 of the period. Detroit scored its second goal, short-handed, on that same penalty when Brett Hull one-timed a slap shot from the slot off a pass from Chelios at 7:03. It was the Red Wings' league-leading seventh shorthanded goal of the season.
Detroit opened the scoring at 12:41 of the first on Nicklas Lidstrom's power-play goal. With the Kings' Zigmund Palffy off for goaltender interference, Lidstrom's slap shot hit the crossbar and bounced back in off of Potvin.