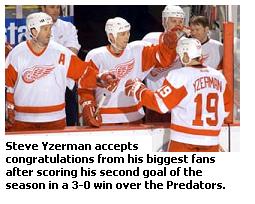 DETROIT - The Detroit Red Wings knew they wouldn't have the emotional boost of their last game. They still skated off with another division title.
Curtis Joseph earned his 41st career shutout, and Sergei Fedorov had a goal and an assist to help the Red Wings clinch their third straight Central Division championship with a 3-0 victory over the Nashville Predators on Monday night.
Joseph stopped 27 shots for his fifth shutout of the season. He earned the NHL's second star for Monday night.
&nbsp Steve Yzerman and Henrik Zetterberg also scored for the Red Wings, who have 106 points.
&nbsp Nashville has lost three straight.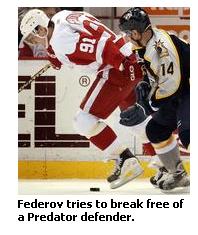 &nbsp Detroit had beaten division rival St. Louis on Saturday in a contest that featured a couple of brawls late in the game.
&nbsp Kirk Maltby said the Red Wings knew the game would be nothing like the Blues game, "but we wanted the two points."
&nbsp The division title was Detroit's seventh in 10 seasons.
&nbsp Yzerman's power-play goal gave Detroit a 1-0 lead with 7:56 left in the second period. He slammed a loose puck into an empty net during a goal-mouth scramble. It was Yzerman's second goal since returning from offseason knee surgery in late February.
&nbsp Fedorov's goal, also on the power play, came with 6:49 left on a slap shot from the point. It was his 33rd goal of the season. Zetterberg added an empty-net goal with 1:13 remaining.
&nbsp One of Joseph's saves came just 11 seconds into the game when he gloved Rem Murray's wrist shot from the high slot.